Submersible Pumps
125mm (5") borewell Submersible Pumpsets
About the Product
CHERAN Premium Models 125mm Borewell Submerisble pumpsets made with quality raw material, unique design to ensure best in-class performance with lowest operating voltage, Low cost and Trouble free maintenance for years. Matchless and unique design of bowl, impeller and diffuser put together construct the pump most energy efficient. Highly sophisticated engineering and State of the art manufacturing process results the world class quality, consistently.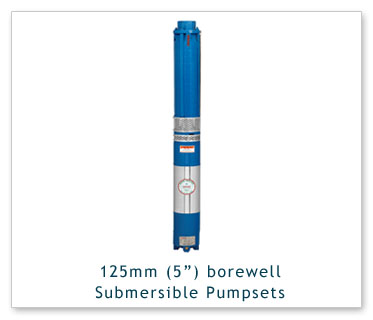 Features
Specially designed Thrust Bearings to withstand high axial thrust loads.
Water Cooled rewindable, easily dismandle and repaired.
Designed for Wide Voltage operation.
Impellers Stainless steel and Gunmetal.
Stainless Steel 410 Sleeve and Shafts.
Best Operating Efficiency and more durability.
Suction, NRV and Motor Castings are of C.I. FG-220 Grade.
Applications
Irrigation
Domestic
Drip and sprinkler applications
Civil and industrial water supply
Farms & Gardens
Rural water supply
Specifications
Power :

3.0 HP to 10.0 HP

Speed :

2880 rpm

Discharge range :

30 lpm - 1200 lpm

Head range :

10 m - 300 m

Delivery Pipe
Size (mm) :

50