Domestic Pumps
Slow Speed Self Priming Monoblock Pumps
About the Product
CHERAN Centrifugal Regenerative Selfpriming pumps are with inbuilt check valve on the suction side and there is no need for foot valve. Pumps are powered by a totally enclosed fan cooled (TEFC) and Screen Protected Drip Proof (SPDP), AC induction four pole motors suitable for continuous duty. Construction of motor frame and usage of quality materials result in high performance and low temperature raise, thereby increasing the life cycle of the motor.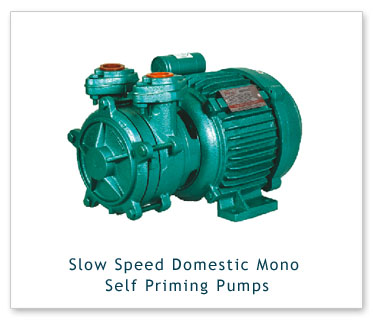 Features
Double sealed ball bearing.
Specially designed for wide voltage fluctuations.
Powder coated multi-color stator body.
Good suction lift characteristics
Accurate function of centrifugal governor & switch ensures the longer life of the motor
Specially designed mesh is provided in pump to avoid foreign particles
Special graded casting used in pump portion to prevent the wear & tear
High tensile brass impeller is used to increase the life of pump
Applications
Civil Applications.
Domestic.
Pressure Boosting.
Small Garden.
Specifications
Power :

0.5 HP to 1.0 HP

Speed :

1440 rpm

Discharge range :

20 lpm – 60 lpm

Head range :

6 m – 36 m

Delivery Pipe
Size (mm) :

25 x 25